Castor wheel manufacturer for mobile garbage and industrial waste containers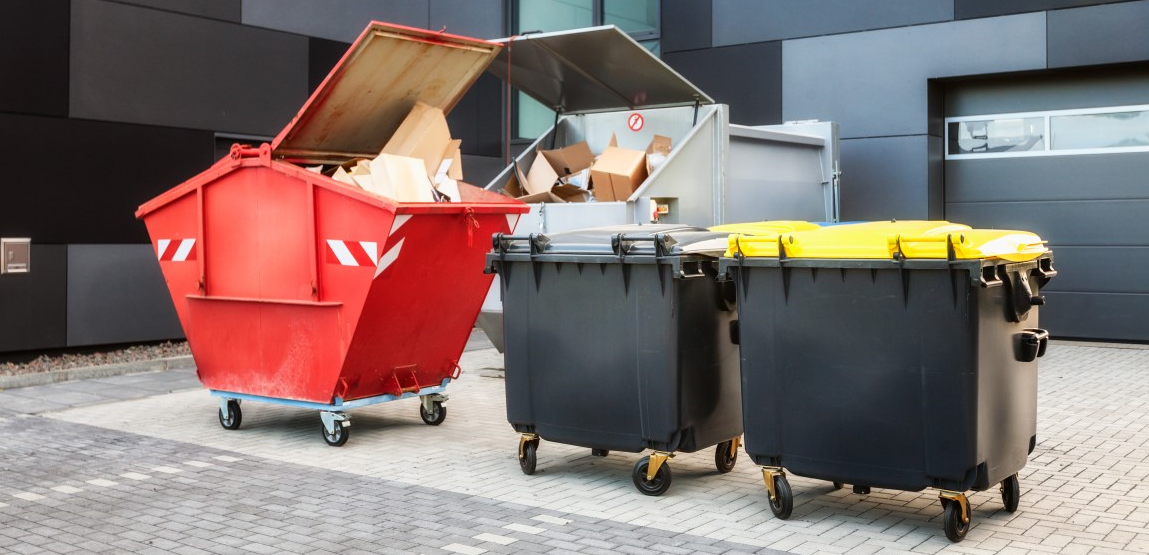 Liv Systems - the no 1 Wastebin container wheels manufacturer in Europe
Serving 30 counties including Eastern Europe, Scandinavia, Asia, and North America
On this page, you find how Liv Systems make your work-life easier…
Container Wheels range:
Standard Waste Containers
Heavy-Duty Waste Container Wheels
Special functionality waste container wheels
Special brake systems
Waste container castor wheels for 12kmh per hour
Super low rolling resistance
Super heavy-duty castor wheels
Super cheap waste container wheels
Nose wheels and axles
Directional locks and special brake systems
About Us & Our processes:
The six key benefits of our wheels
Production process
Premium recycled materials
Sustainable waste management
Certifications
Get your castor wheels:
Our happy clients
Frequently asked questions
Contact us here
Our standard waste container wheels for plastic Wheelie bins & Steel galvanized containers of 400, 500, 660, 770 or 1100 litre are of the highest quality you can find in the market.
Because of the optimal value for money, the top of Europe waste container producers chooses LIV as their chosen supplier for wheels and castors. Economic castors with the LIV standard fork are assembled with black or grey durable and sustainable premium recycled rubber tyres.
Economic castors with standard fork + premium recycled rubber tyre.
The high-quality passivation in our in-house galvanizing process ensures that all zincked housing parts withstand 192 hours of salt spray chamber testing.

All our standard waste container wheels have a load capacity of 210kg according to the waste container test (DIN 840) and a load capacity of 350kg according to the test for industrial castors (DIN 12532)
Economic swivel castor with high-grade PP rim and plain bearing
assembled with premium recycled rubber tyre
with for 4 - wheel garbage container Black high-grade PP rim, premium recycled rubber tyre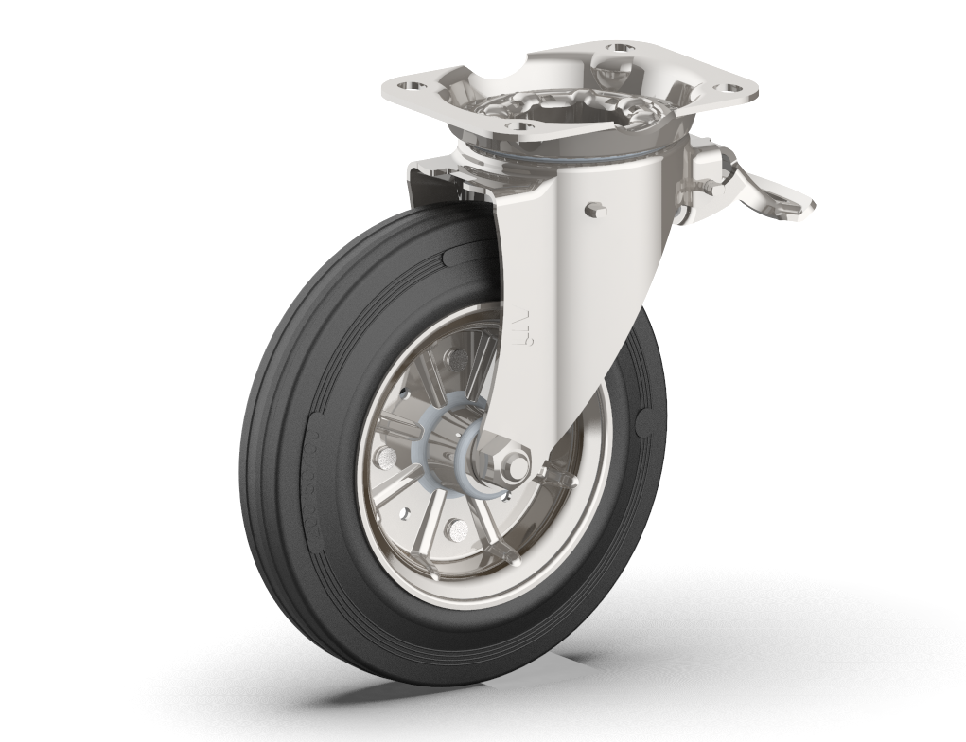 For the metal waste containers: swivel castors with
metal rim and premium recycled rubber tyre
To not leave markings on the floor:
Choose a swivel castors with Grey tire
Swivel castor with brake for 4 - wheel  waste container black high-grade PP rim, premium recycled rubber tyre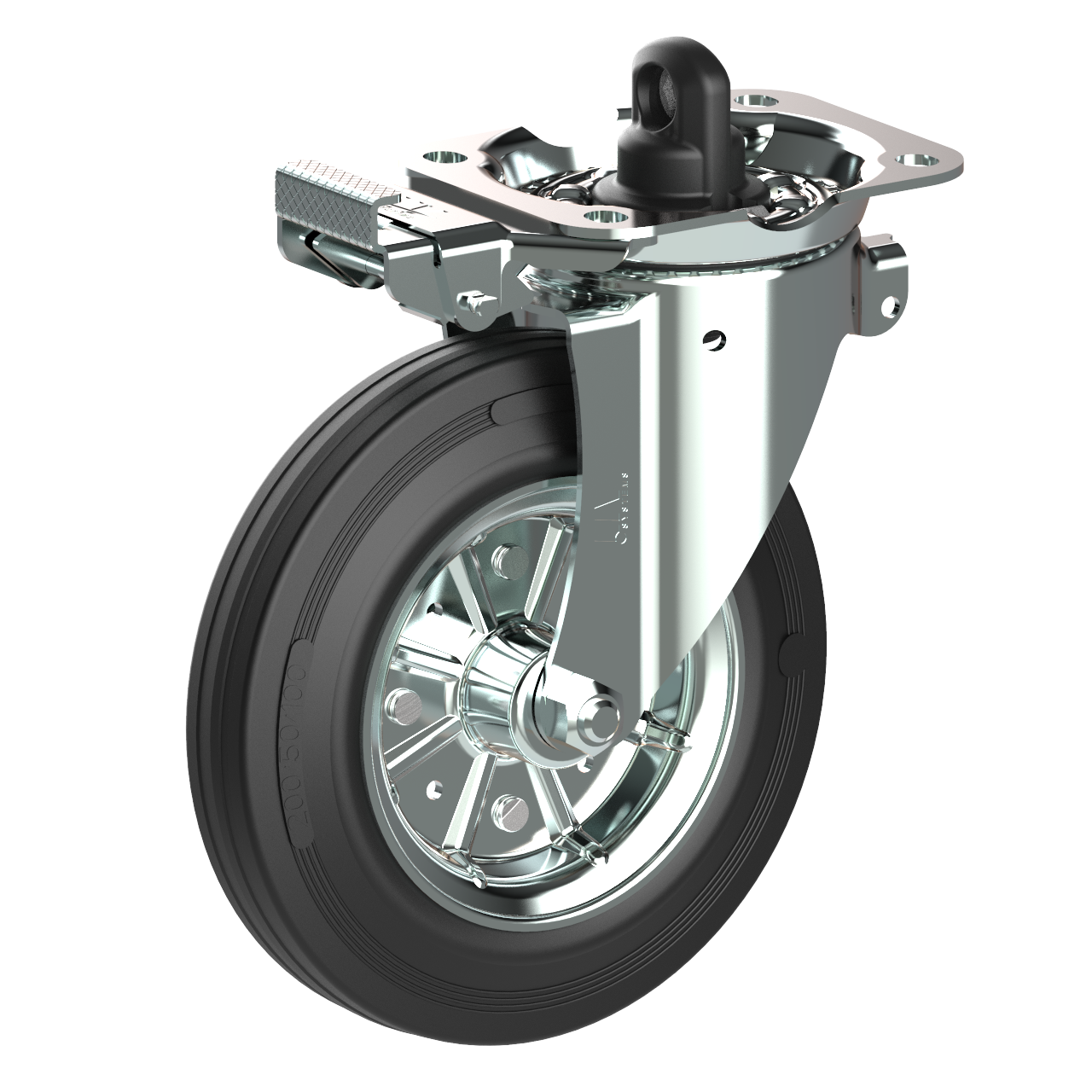 Container castor with central brake. A cam connects to the brake rod
and offers easy braking and release. (image includes also the optional directional lock)

Choose options of your container wheels below:
1 Tyre Colour:
Standard black economic tyres OR grey tyres.
Why grey? Grey tyres are non-marking so great for indoor use
2 Wheel Diameter:
200mm OR 160mm diameter wheel. The bigger the wheel the higher the possible load and the lower the rolling resistance when obstacles have to be taken
3 Bearing Options:
Plain bearing + bushing OR roller (needle) bearings, to move loads with ease OR impact-resistant double ball bearings to manoeuvre high loads with ease.
4 Rim Material:
Economic PP rim for   -30 till +80C OR metal rim for high loads and environments with high UV radiation

5 Wheel Support System (fork):
Swivel castor wheels OR Swivel with a rear brake pedal OR Swivel castor wheels with central brake cam OR Swivel castor wheels with 3 stop = 360-degree operational brake pedal
Our waste container castor wheels successfully passed all SKZ certification in accordance with EN840-5 and also RAL 971/1. in addition, our products passed all in house testing by the leading waste container manufacturers like SULO, ESE, WEBER, Europlast, Helesi and Plasticomnium
The high-quality passivation in our inhouse galvanizing process ensures that all zincked housing parts withstand 192 hours of salt spray chamber testing.
Heavy-duty waste container wheels

Our heavy-duty waste container wheel is specifically designed for low rolling resistance and easy manoeuvring of heavy loads.
Robust and durable castor wheel system for moving higher loads and speeds up to 18km/h.
The special metal castor systems have special heat-treated hardened steel rings to support super swivelling capabilities under heavy loads.
That's why this is the chosen wheel for applications.
The high-quality passivation in our in-house galvanizing process ensures that all zincked housing parts withstand 192 hours of salt spray chamber testing.

All our heavy-duty waste container wheels have a load capacity of 650 kg (DIN 840) to 950 kg (DIN 12532)

Containers with smooth-rolling capabilities with super elastic rubber tyres 
Containers with smooth rolling capabilities with super elastic rubber tyres  
Heavy duty container castors with brake and non-marking tread. Impact-resistant aluminium centre with double ball bearings

Medium duty container swivel castor with brake and super elastic rubber tyre to offer low rolling resistance. Prime PA6 nylon rim and shielded ball bearings for a humid environment.

Swivel castor with super wear-resistant polyurethane tyre on shock-resistant aluminium centre for heavy metal dumpsters and waste containers
Special functionality waste container wheels
For any of your needs, we are capable and willing to help you to develop a solution.
Please find below a selection of our adaptations based on the request of our customer.
LIV Systems - We are here to make your work-life easier.

Special brake systems
Fixed castor wheel with central brake cam

Special brake system
Castor with a brake which is accessible from 360-degree operational brake system

Special brake system
Castor wheels with Foot and toe guards for increased health and safety

Waste container castor wheels for 12kmph
Waste container castor wheels for 12kmph
Special brake system
Soft Polyurethane tyre in round shapes 75 Shore A offers a smooth ride for high loads  
Super heavy-duty castor wheels for load-bearing till 6,000 kg per Castor wheel

Super cheap waste container wheels

300mm wheels

Antistatic, Electrically conductive waste container wheel
Wheels for Extreme High Loads and/or Speed and Intensive Use
Nose wheels and axles for 2 wheel waste container wheels for 60, 80, 120, 140, 180, 240 and 360 litre
Nose wheels and axles for 2 wheel waste container wheels for 60, 80, 120, 140, 180, 240 and 360 litre
Castors with metal rim for environments with high UV radiation
-40C degrees Celcius castors for winter conditions
Excellent wheels that spin to your satisfaction
To ensure the production of premium quality wheels, we obtain our raw materials from Europe and make sure that they comply with European standards.

Produced from Natural Rubber
Our castors and wheels are produced from natural rubber materials and prime recycled materials sourced from Europe.

Durable
We use automotive steel that's stronger and more durable than the regular ones, leading to less wear and deformities over time.
Engineered to Last
Engineered to optimal shape and finite element analyses make sure our wheels are built to function and last for a long time
ISO Certified
Our wheels conform to all European regulations and hold international ISO certifications.

Fully Tested
Every product batch must pass the rolling resistance testing before they are released to the market.

Ease of Use
Our wheels roll with ease, keeping the comfort, health, safety, and efficiency of workers in mind

Smooth-rolling wheels that make garbage collectors' lives safer and easier
Coupled with optimal swivel systems, our wheels can be easily attached to garbage carts to lessen the strenuous physical demands of a garbage collector's job.
We create wheels with low rolling resistance so that moving the cart can take less energy for your employee, thus making him more efficient.
Since the wheels can be easily manoeuvred, garbage collectors no longer need to exert too much effort in pushing and pulling carts, helping reduce the back pain that they often experience. You even get to decrease the number of absences in the process.
You can also increase the deployability of your containers and lower the maintenance costs and losses due to downtime.

Efficient production to get our wheels delivered safely and quickly
Our integrated factory is strategically located in Postojna, Slovenia, where the administrative building, production hall, and warehouse are placed under one roof for maximum efficiency.

High Production Capacity
With our high production capacity and operational efficiency, we have quick turnarounds & full truck deliveries even as early as 84 hours in times of need.

Full Process Control
Having our own factory
& engineering team means we control the full manufacturing process, so our wheels are always in stock.

Cost-Effective
We use less raw materials compared to our competitors & use smart cutting to sure that we produce almost no scrap materials and cut down on the cost.
Sustainable practices for minimum environmental impact.
As a top wheels manufacturing company, we make sure that we do our part in taking care of the environment.
We comply with important environmental requirements for procurement, production, development, and utilisation of our products, giving us the highest quality assurance and certification.
We also conduct research and carefully study the results to ensure that we leave a minimal footprint in nature.
As a result, we have developed eco-friendly installations and procedures like a huge water purification plant, heat exchangers, waste separation, and electricity from our own solar panels.
We also make sure that we recycle prime materials and source only PAH-free rubbers and plastics for our wheels and other products.

With a low PAH level of only 28, our products are proven to have no carcinogenic, mutagenic, or teratogenic properties.
We don't over-recycle our materials to make sure that acid byproducts are maintained at a minimum.
We use solar panels and heat exchangers in our factory to recycle the heat we generate during production.
Integrating our production activities under one roof means ensuring full compliance with environmental regulations.
Our headquarters is located in Postojna, Slovenia--one of the greenest countries in Europe.
We have ISO 14001 certification for an effective environmental management system.

Our Certifications
We are proud of being the number one manufacturer of wheels for waste containers in Europe.

All our waste bin container wheels and castors have been produced according to the DIN EN 840 and RAL GZ 951/1, which are the European standards for the manufacture of mobile waste containers.
We also apply the European standard of DIN EN 12532 and 12533 for our industrial range of wheels and castors.
And since we want to make a difference in the environment, we only produce 100% PAH and REACH-compliant rubber wheels. Wheels with plastic and rubber components containing PAHs have long been restricted by entry 50 of Annex XVII to REACH Regulation (EC) No 1907/2006.
We also received management certification (ISO 9001: 2015) and environmental certification (ISO 14001: 2015).